---
Beta launch applications for August 2021, October 2021 and January 2022 are now closed.
No deposit applications for Summer/Fall 2022 operation close May 15, 2022 or sooner if all 2022 system configuration slots are filled. Waitlisted 2022 applicants will be given priority for Fall 2023 operation.
Dear Fellow Music Studio Owner:
Welcome to studio automation. The beginning of mental and emotional freedom from your studio. The elimination of worrying that you need to find and keep a "superstar" front desk person to run your studio well.
This website is very long, almost like a mini book, as I have a lot to say about automation of your music studio business. If you invest the time in reading all of it with an open mind you will be very well rewarded. The day-to-day operation of your studio could dramatically improve forever. What I will discuss here is the start of the biggest shift that will change the music studio industry in the next 2-5 years.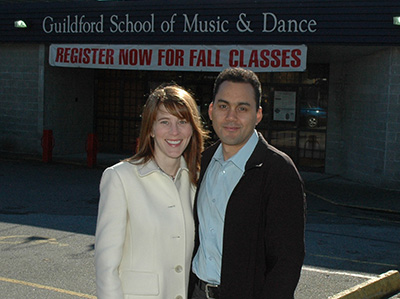 My name is Sam Beckford. My wife Valerie and I started our music studios in 1995 after meeting in university and both graduating with business degrees. Valerie also did a music minor. She plays piano and I play violin. We started our studio literally with $50 of photocopied flyers and by renting space in an elementary school. From that humble start, we ended up with 3 locations that, at their highest point, had over 3,600 students attending classes each week. Today we own 3 commercial buildings with over 31,000 square feet of commercial real estate that we run our studio from and rent out extra space to other tenants. 2 of our 3 buildings are mortgage free. In the 2020 pandemic, we took a golden opportunity to restructure to a smaller size that actually makes more profit than our large multi-location operation did.

In 2003 I started doing business coaching of other studios who wanted to expand their studios and buy or build commercial real estate like we had done. I held mega seminars in cities all across North America like Chicago, New York, Phoenix, LA and Toronto. In 2008 I even built a conference center in the backyard of our Vancouver waterfront house and held small group coaching sessions for studio owners.



Over a 15-year period, I personally helped over 200 studio owners buy or build a commercial building of their own and even helped create a few studio real estate millionaires in the process.
Even though neither of us are dancers, we added a dance program to our music studio in 1998. We started using some software to run our studio that was actually made for dance and gymnastic and group classes, but the company claimed it could run music too. It was a compromise at best for music lessons. Most parts of their software were just plain unusable for music lessons, so we had to rely on a mish mash of Google docs, notes and other programs cobbled together in a Frankenstein type arrangement.
I researched several music studio software programs and found that they were either geared toward private independent teachers not commercial studios, or they were much too manual in the registration and day-to-day operations. Most were just yoga and gym software with a different (or the same) label. They all seemed to be made by computer programmers just guessing how to organize a music studio. The makers of the programs had clearly never actually booked a last-minute sub or tried to register that new family with 3 kids who can only come Tuesday at 5:30 (Hmm, if I just ask that one parent who likes me to move 30 minutes later, and I start that new guitar teacher this week instead of next week and hope his schedule fills in, just maybe…).
None of the software programs had intelligent online registration for private music lessons. You needed your staff to run the software. There were no systems that basically "ran themselves." In a world where everything could be done online, it seemed like the music studio industry was the "land that time forgot." Registration by phone calls, request info forms, back and forth emails, but no online registration. It was like the industry was stuck at about 2007 in regards to technology.
In 2018 after being involved as an investor and active partner in 3 software startups as side businesses (2 tanked, one hit a home run getting Walmart and SoftSoap, the Colgate Palmolive brand, as customers) I decided to take the leap and build the program our studio needed myself. I was confident that I now had the software industry experience, resources, programming contacts and time that I could use to make software for our music studios that actually worked automatically for most day-to-day things.
After 2 years of successfully running the program at our studio it was ready to share with others in the industry. I had an eager crowd of my music studio business coaching clients who wanted to use our software to get the automatic results we were getting at their studios. In 2021 I decided to retire from business coaching to focus all my energy on our software exclusively for music studios, StudioAutoPilot.
Forget about software that "organizes" and "streamlines" and all the other same vague sounding features and platitudes other software programs brag about. This system, now called StudioAutoPilot, that I started building in 2018 and have been using to run our studio since 2019, gets as close to full intelligent automation as possible. I'm not even going to bother comparing our system to any other software because it is different. 
A flip phone and an iPhone are both technically cell phones, but the entire philosophy of how they were intended to be used is different. This system "automates" your studio because we know how to get your parents to happily do most of the tasks that you are now relying on your admins to do (or tasks they forget to do) right now. You will still need admins at your studio (although one of our beta studios laid off an admin staffer just 2 weeks after setting up StudioAutoPilot because they realized they didn't need that position anymore). StudioAutoPilot is like giving your admins an Iron Man suit. The suit is doing all of the heavy lifting/superhero stuff. One person can literally do the work of 2 or 3. 
When the pandemic hit, like almost everyone else in the music studio industry, our lessons went online. We saw that our parents and teachers were using our automated system and not using our admins - because no one was in the building. That's when we realized we had a major opportunity. We restructured our studio and downsized from 3 locations to just 1 location. Because we own all of our studio commercial real estate, we were able to rent the space we vacated at a higher rate. When we went back to in-person lessons, we reduced our admin staffing cost at the remaining location by almost 50%. That strategic move allowed us to increase our net profit by 28% with way less staff, less friction and less hassle.  Don't worry, all of our old admin staff found other jobs and we still stay in contact with them.
Today we run with minimal admin staffing, but our parents, teachers and students are more satisfied that they can control what they used to be forced to do through our admin desk staff. No one wishes for the good old days before online banking when you had to go to the bank and deal with a teller.
Before we start, bottom line, how much does StudioAutoPilot cost to use?
$249 per month for up to 500 active students.
Less than what 2 students pay you each month.
Is it worth it?
84% of our students register themselves online. Between July 3, 2019 and today we have done over 1300 online registrations of private music students. One out of seven of our new registrations now happen during days and hours we are closed. We registered a new music student on Christmas day in both 2019 and 2020. I hope I get the same thing for Christmas this year too. It never gets old.


Integrated video for online lessons (Zoom-type service) is priced by active student count.


$99 per month for up to 200 student lesson rooms, every additional 100 students is $49 per month.


Every active student has an automatically-generated lesson room for each registration. There are unlimited automatically generated teacher accounts. These rooms can be used for regular online lessons or make up lessons or snow days when teaching off-site is necessary. Yes, you could try to save money by cobbling together free Zoom accounts and generating links yourself but you would not have an automatic system. Saving on video is the worst way to try to save money in my opinion. If you can't afford an extra $99, or are unwilling to pay less than what 1 student pays you each month for total automation, stop reading now and keep doing what you are doing instead.


The integrated credit card merchant account is $10 per month, 30 cents per transaction with a flat transaction rate of 2.59%. These are competitive rates when you consider that all online registration transactions are "card not present" which have higher merchant fees. If you compare our merchant rates with Mindbody software – the huge yoga/gym software some music studios have wrestled with before running on StudioAutoPilot, our rates look very reasonable (support.mindbodyonline.com/s/article/What-are-my-MINDBODY-Payments-processing-rates).
10 Major Things StudioAutoPilot Does
What's a "Yabut" studio? It is usually a studio that is successful with intelligent people working there. They see the value of online registration and automation as a concept, but they get too smart and think about too many hypothetical situations that could occur with a new system.
They are interested and maybe even a bit excited but then they think "yeah, but what if parents do this and then …" or "yeah, but what if the teachers all think …" or "yeah, but my admins will never…".
I've always been pretty gung-ho about many opportunities and ideas. I know a lot of times being too smart can get in your own way.
Today we own 3 commercial properties valued at over 20 million dollars.
Back in 2004 we scraped together every penny we could find and bought one of our properties for a staggering $1,720,000.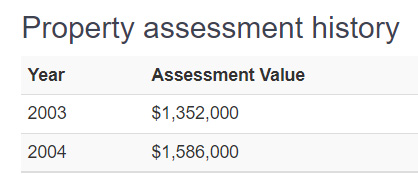 Many people thought we were crazy. The property had a city assessment of almost $140,000 less than what we paid. Here's the online data I found that goes back to 2003.
A lot of well-meaning people and even some relatives told us not to take that risk in the "Yabut" language. I was convinced that if we had a tenant and shifted the expense we were paying for the location we were moving from into this new space, we could make it. Even if we just broke even and made the payments, we would eventually have the building paid off. Several people said: "Yeah, but what if the economy goes down?", "Yeah, but what if your tenant doesn't make it and you have a vacancy?" and "Yeah, but what if you need to do a big repair?" Their well-meaning objections had some merit but the bottom line was owning a property long term would be a major benefit despite any short-term difficulties that could emerge.
 
Guess what? Over the next decade those things did go wrong. The economy went down in 2008 with the recession. We had to switch out our tenant who could didn't make it. We had a couple of big unexpected repair bills. The worst-case scenarios all happened BUT…
Today in 2021 the numbers tell a different story. On July 14, 2021 we got this offer below. Another local business really wanted our building so a realtor made us an offer, then increased the offer. We are not selling the building because we have a long-term tenant on a 10-year lease paying $30 per foot and it is now completely paid off.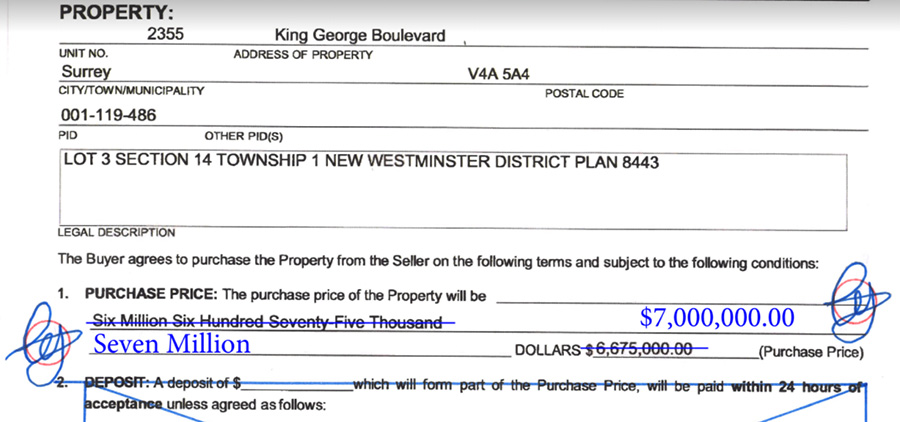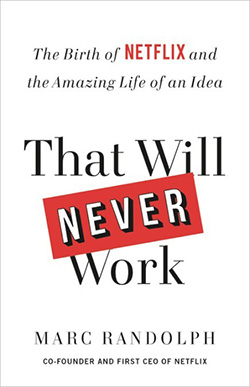 Yabut thinking can prevent you from doing things that are very beneficial for your business. We had a lot of Yabut objections from our own studio admin staff in 2019 when I suggested that we would be running our studio on StudioAutoPilot. They confronted me about a lot of things that could not possibly work. If I would have listened to the hypothetical scenarios of why it would not work, we would not have StudioAutoPilot today. During those times one of my most helpful supports was this book by the cofounder of Netflix that was released serendipitously in September 2019. I felt his pain. It was like he was reading my mind.
I can't imagine operating in the "normal" way we used to do things just 3 years ago, before online registration and studio automation.
I have coached a lot of studio owners and other business owners and professionals to buy commercial real estate. I even had a medical doctor that went to Harvard Medical School attend one of my seminars. I was amazed at how their intelligence got in the way of them just taking action when I could prove the numbers made sense long term and, in many cases, short term. I would tell them you need to be smart enough to buy a building, and dumb enough to try.
Today StudioAutoPilot is being used by thousands of families across North America. It works and people like it. Will it take a bit of getting used to? Sure. Did shopping on Amazon take a bit of getting used to? Yes. Will we ever go back to buying everything in person? No.
A few studios and admins not believing this system could possibly work does not stop the thousands, soon to be hundreds of thousands of families from using it and revolutionizing the profit and freedom of the studio they are registering at.
Have an open mind when reading this or discussing the concept with your admins.
You can question it, but bottom line, just be like Fred Flintstone and say: Yabut, Yabut do!!
1. 100% Online Registration – no leads or inquiry forms to follow up with.
Parents do all this themselves:
select and register in actual times
pay a registration fee that you specify
have the fee prorated if starting mid-month based on how many lessons remain in the month
No admin work is necessary because:
the teacher is notified automatically about the new student
monthly payments are automatically set up
the teacher pay is automatically updated based on the start date
video room links are automatically generated and shared with teacher and student
Simply put a link or button on your main website that says "register now," "register online," "get started" or any phrase that suits your studio website style. Direct that link to your customized studio booking page which will look like this: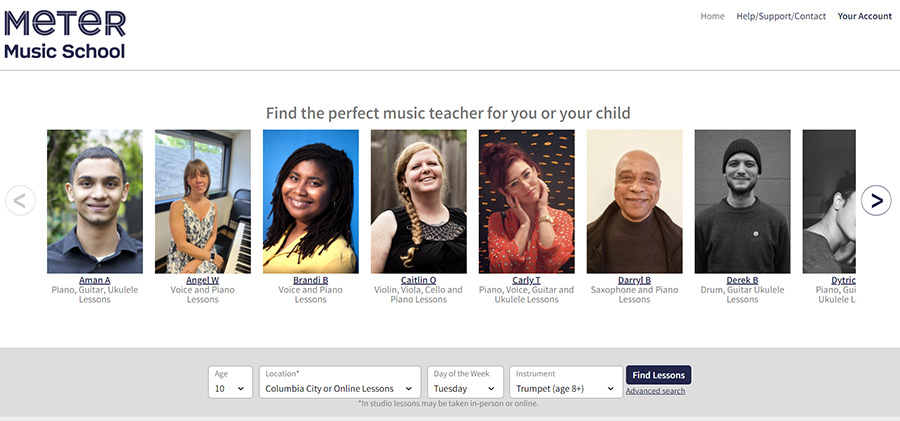 Prospects can refine their search by instrument, location if you have multiple locations, a specific day or a specific teacher they were referred to by a friend.
You set your studio minimum ages for instruments so a student who is too young cannot register for an unsuitable instrument or lesson.
Once a prospect selects the lessons and teacher, they see actual times. They can choose between 30-minute, 45-minute and 60-minute lessons. You just set the lengths of lessons you offer. StudioAutoPilot intelligently recalculates the fee and displays time slots to minimize the possibility of a gap being created on the schedule.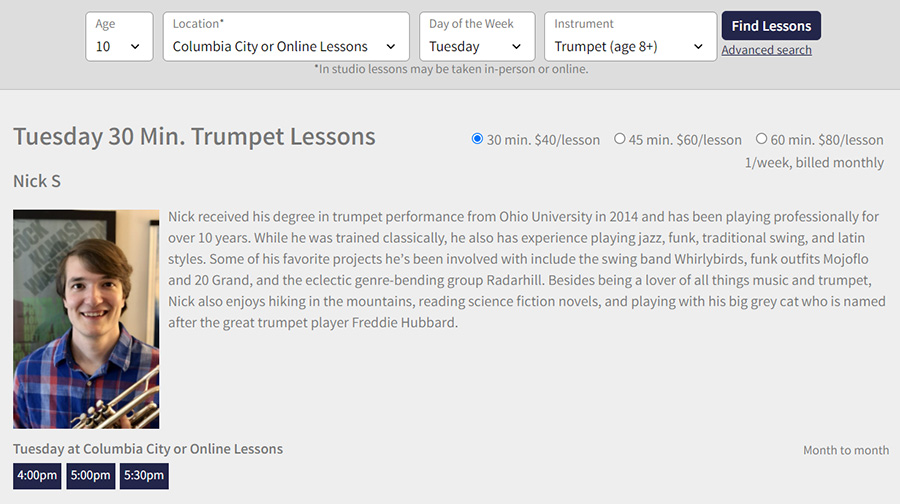 From the admin side you can easily control the display of online booking options to ensure students are booking where you want and with the teachers you want filled sooner if necessary.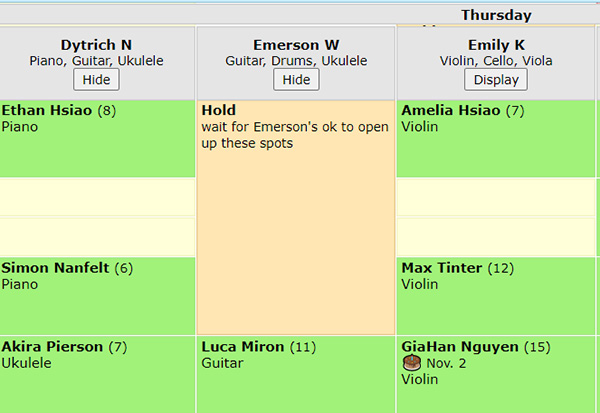 If you click "Hide" a teacher's schedule will not display for online booking. This can allow you to fill certain teachers based on your priority. You can also adjust your booking page search results for teachers in the order you wish, just like Amazon does to sell more or less of certain items based on demand and availability.
The "Hide" feature is also helpful if you have a teacher who will be leaving soon and it would be impractical to start a new student with them and then switch teachers. Let's say a teacher was pregnant and was planning to stop teaching next month. "Hide" will not display their entire day or any open times online for booking.
"Hold" will not display a specific time or time block for online booking until you remove the hold.
In the case of the teacher Emerson above, his schedule can be easily displayed by removing the "Hold" when he is available to start earlier.
To populate our online teacher listings, we ask teachers to provide a picture (preferably with their instrument) and a bio about their qualifications, teaching experience and style. We edit the bios as needed before displaying them.
We only display the teacher's first name and last initial for privacy and to prevent students finding a teacher's social media and trying to contact them directly. The step of adding teacher pictures and bios and letting the parents choose will surprise you. Parents pick different teachers than you would have picked for them and that is ok. Our retention has increased dramatically since letting parents choose their own teacher, instead of us believing we need to "match" students with teachers.
There are no questions of "tell me what is the teacher like?" Parents search for teachers online with their kids, and the kids pick the teacher they like. Parents have the assurance that the teacher has the qualifications and experience that they can trust from the bio. What you see is what you get is the way of all online shopping. If you can literally do a virtual tour of a vacation house or resort you are planning to visit, it makes no sense to keep parents in the dark about the teacher that they could be taking lessons from for years.
Another major advantage of parents' self-selecting teachers from their bios and pictures on our booking page, is we have almost no requests for trial lessons. Last year we just had 3 requests for a trial lesson before committing. Parents and their kids and adult students are comfortable with the style and qualifications of the teacher so they just book. Simple and efficient.
Here are some actual studios who are using our system for online registration. They all just added a "Register Online Now '' or "Get Started" button on their main website that links to their StudioAutoPilot booking page.
www.metermusicschool.com
www.jointheband.com
www.ftsmusic.org
www.mytlcstudent.com
www.fivehands.com
One of our beta testers, Meter Music School, in Seattle is excited about seeing things like this in his registration log:

A new adult guitar student registered themselves at 1:11AM Sunday morning, when no studio would ever be open to complete a registration. In his words he's "pretty stoked" about it.
I know exactly how he feels. Later on that same Sunday our studio got a new online registration at 8:29 PM for a new 12-year-old guitar student.


Autopilot really is the only way to fly.
2. Sets up a private messaging platform for practice assignments between teachers and students.
A messaging platform between teacher and student is automatically set up to share recordings, pdfs and videos. Admins have full control over the messages and can edit or delete them. All communication is kept in a place where it is seen and managed by the studio. No secrets, no surprises. No out-of-the-loop "my teacher said the make up was today, I thought."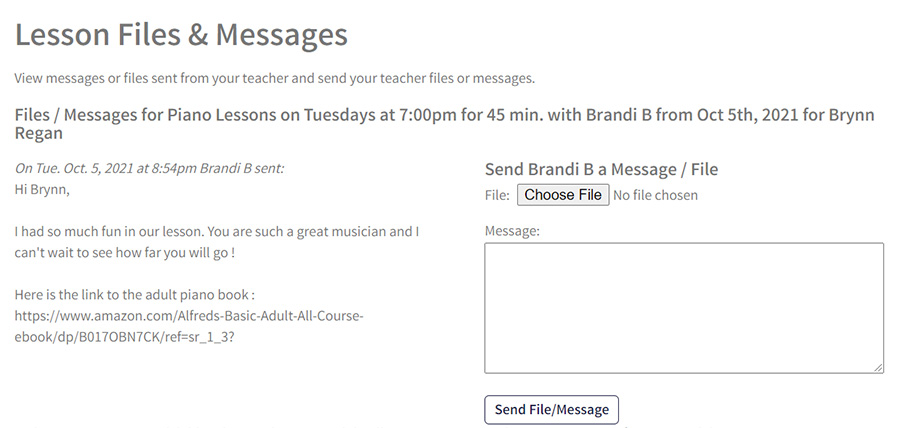 And no Patty Paranoid - your teachers will not steal all of your students and run away together singing that Piña Colada song laughing and frolicking along some white sand lesson beach.
Teachers and students need to communicate and share lesson information. Restricting that legitimate, needed communication and forcing it through your front desk is tedious and frustrating. We have not lost students because of this message system. I promise, if you do not have an approved communication system you control, students and teachers will find a way to do it without your knowledge. Deep breaths Patty, its ok. We'll help you.
3. Exact monthly billing based on the number of lessons.
Monthly fees are automatically charged based on the number of actual lessons each month and parents can see a list of upcoming fees to be billed on the 1st of the month at any time. No more averaging and only getting paid for 4 lessons in a 5-lesson month (and then having the student quit and forgetting to charge them, doh!).
Here's a sample of what parents see. The hyper-planners can see exactly what is forecast to come out of their account each month, but seriously no one really cares that much. Studio owners psych themselves up believing everyone "needs" even monthly billing. They don't. People are used to different amounts being billed to them for many services. Sorry we all aren't that special.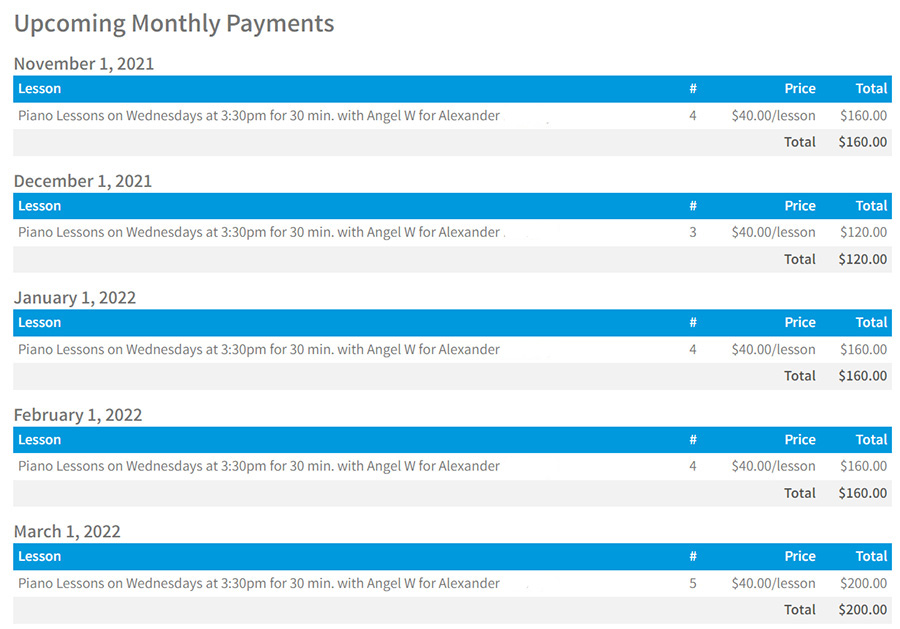 4. Your admins do not need to chase declined or expired cards anymore
When students log into the system they see their failed payment status and can update and/or retry their card in real time to get an approval.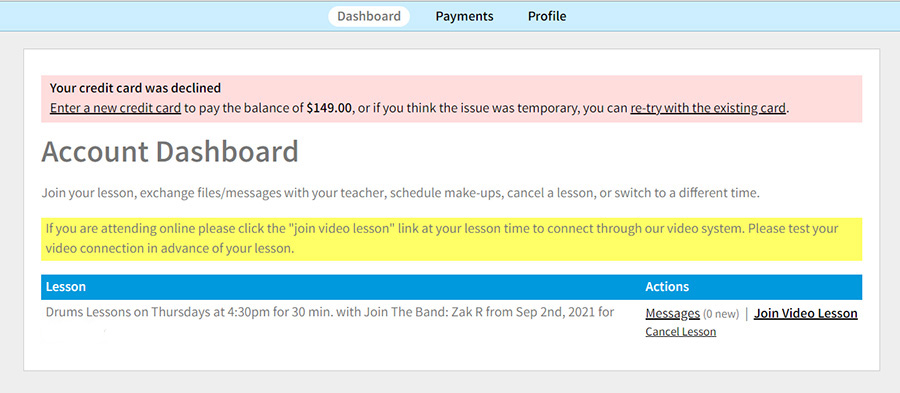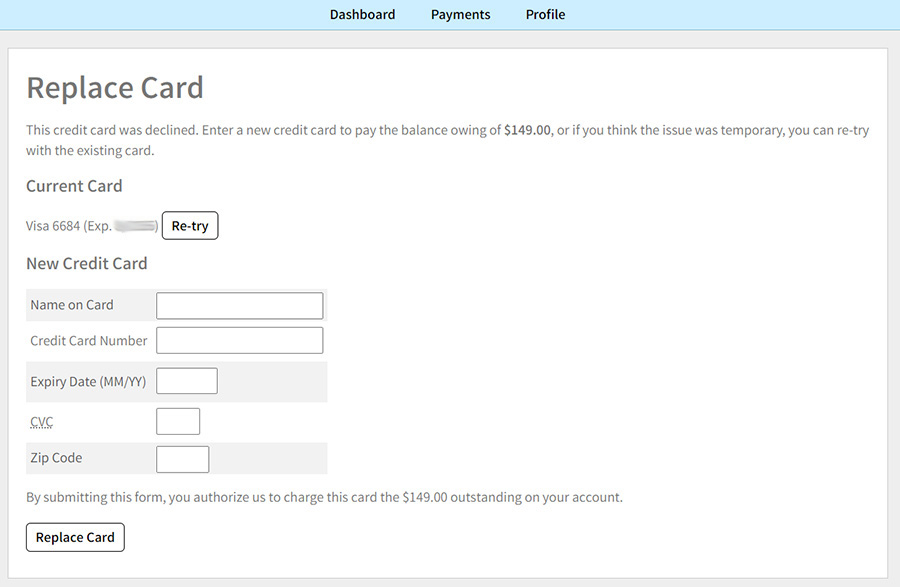 If it is after the 10th of the month, you can use a recommended setting so parents get this subtle notification and they are required to pay to access the lesson practice notes or online lessons.

We call this the "Netflix" billing model. As in, no working credit card = no Netflix. You can override this setting but I highly recommend you do not. We have practically eliminated chasing of fees or phoning for "can you please update…."at all at our studio (we only made 3 phone calls regarding updating cards in an 8 month period last year).
But what if parents don't log in and see a declined payment? They will. All online lesson video room connections are in their account and all practice assignments are in their account too. Our teachers gladly upload all the assignments in the students accounts because kids can't forget them at the studio, lose them, or leave them folded into the minivan seat ("accidentally").
Parents are sent a notification when they get a new practice assignment for their child. When they go in to get it they are prompted to update their payment. 
Ironically eliminating collections at your studio has nothing to do with how good your admin staff is at hounding people. Eliminating manual collections is entirely dependent on how good your teachers are at posting practice assignment for their students.
5. StudioAutoPilot 1 click subbing - does 5 things
On the admin side when you add a sub all this happens:
The sub is added on the admin schedule
The pay is deducted from the teacher who is missing and the explanation is given on their statement of who subbed on which day so they can reconcile it
The student is added to the sub's personal schedule that they can log in to see
The video room moves to the sub's schedule and moves back after the sub day
The pay is added to the sub at their pay rate.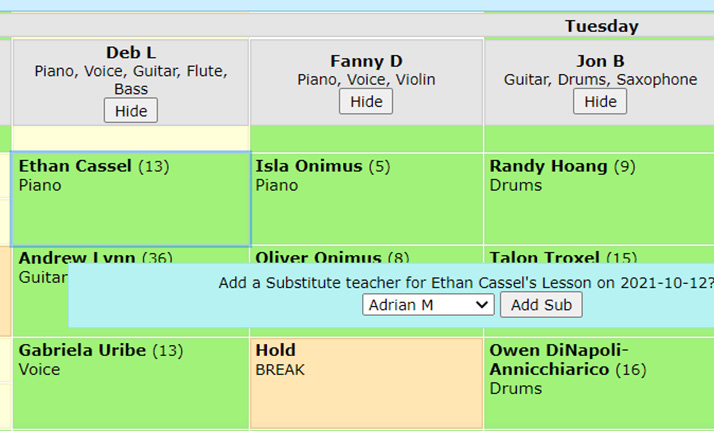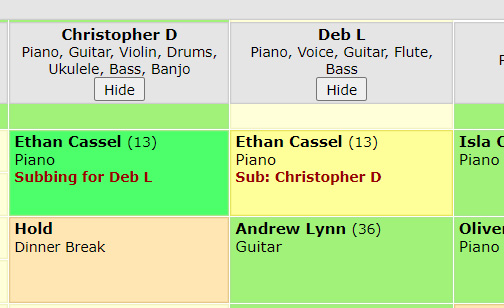 6. The transfer feature allows you to change times, days, lesson lengths or teachers and have everything updated automatically with 1 click. You can also activate the parent DIY transfer feature to go full autopilot.
With just 1 click the transfer function will:
End a lesson registration with the old teacher and start it with a new teacher
Recalculate pay based on the last lesson day taught at that time or lesson length
Move the video room and all lesson notes to the new teacher
Charge or credit the parent if they are moving from a day with more or fewer lessons in that month
Update the future monthly fees to reflect an increased lesson length
Update the new time, day, teacher and lesson length in the parent account



The transfer feature also lets you increase lesson lengths and automatically updates things in all the necessary places.
When you are comfortable you can go full autopilot like we do at our studio. After the beta studios had completed just 6 weeks of running on StudioAutoPilot, I offered them the option to switch on the parent account DIY transfer autopilot. I was actually surprised when 100% said "yes!" without hesitation. I guess by that time they were true believers.
Let's say your studio closes at 9:00 PM. Imagine a teacher telling their last student of the night that takes 7:30 -8:00PM, a 16-year-old voice student, that they should increase their lesson to 45 minutes. The student says they will ask their parents.  Later that night at 9:34PM, (your studio is closed) the parents go online and increase their lesson length from 30 minutes to 45 minutes. It's the middle of the month, there are 2 lessons left so the system charges the credit card on file for the extra 15 minutes for the next 2 weeks. All future monthly payments are updated to charge for the 45-minute length. The teacher pay is automatically updated and synced to pay extra based on the date they increased mid month. The teacher is auto notified on their schedule that the student will be 45 minutes from now on starting next week.
Then the system recalibrates the available times at the end of the night so instead of creating an automatic 15-minute gap by offering only the later start time of 8:30, the system offers an 8:15 start first in addition to 8:30.

The next morning when you check your dashboard, you see the update that happened and 1 other new registration that came in while you were sleeping. What you see feels kind of like a dream, but you're awake.

7. Automated Make up lesson management
StudioAutoPilot gives you 4 automated options to handle make up lessons.
Families can:
Self-schedule with their teacher into other student cancellations or last-minute unfilled gaps.
Self-schedule into a group make-up class pre-selected for the right age and level for their child. If your studio offers group make up classes, you simply set your schedule and capacity. When parents cancel a private lesson, they generate a make up credit which they can use to self register for the group class. The class list is automatically updated for the teacher showing ages.
Self-schedule a live video make-up lesson in other student cancellations or last-minute unfilled gaps using our integrated auto-generated video lesson rooms. Parents like this make up option because they do not need to drive back to the studio. You also have the option to book make-up lesson only days for parents to schedule into. If you do a make-up only day and make it online only for parents, the teacher can be at home completing make ups instead of using a studio room. Our auto generated video rooms work without the complication and friction of your admin staff emailing zoom links back and forth and inviting students in and out of rooms. It's a fully hands off process.
Receive a recorded video lesson from their teacher posted into their student account. This is done by our own integrated system. Teachers upload videos though their dashboard and the video is stored, hosted and played directly through the students' accounts. Some studios already use a video make up lesson approach using a third-party video service, dropbox or YouTube. Compared to our integrated system, those options add unnecessary complication, expense and an additional account for teachers and parents to use.

At our studio we mainly do a combination of method 1 reschedule in person lessons into gaps, and method 3 video lessons that the teacher gives at the studio or from their home in certain situations.
Parents are able to log into their account and cancel up to 3 lessons per year (or how ever many you set but 3 works for us) with 24 hours notice and generate a make up lesson time credit. We used to have a rigid make up lesson policy saying you need to be sick or no make up. We changed that policy because what matters is not the reason students miss, it is the amount of advance notice they give to tell you they are missing so you can rebook that time.
"But I can't rebook that cancelled lesson time! It's too hard. Ain't nobody got time for that!"
I know, we couldn't manually rebook cancelled slots before either – but a computer can. Trust me if UBER and Airbnb can work because of computer automation, make up lesson scheduling can work and does work too.
If parents want to cancel a lesson, they don't call you and threaten, beg or negotiate. They log into their account and choose the date to cancel. If it is more than 24 hours in advance, they can cancel it. They can do this up to 3 times per year at our studio. I like 3 because baseball has 3 strikes. The longer out in advance they cancel the better. There is more time for someone to automatically rebook themselves into that spot.

When they cancel, the system shows the parent the confirmation and generates a make up lesson time credit to rebook. A 30 minute cancellation generates a 30 minute lesson to rebook. If they try to cancel more than 3 lesson it says: You have used the maximum number of make up lesson cancellations. You don't have to be the messenger behind bullet proof glass.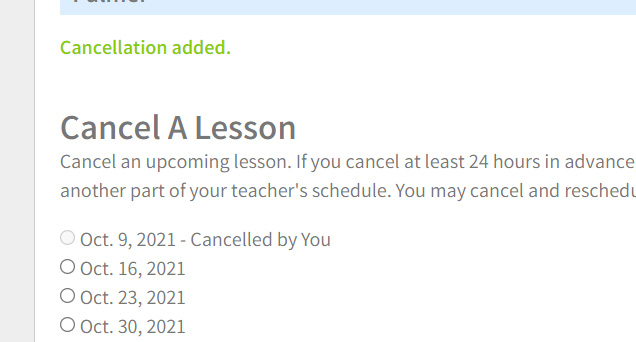 On the teacher and admin schedule the slot on that cancelled lesson turns red so everyone knows the student has cancelled.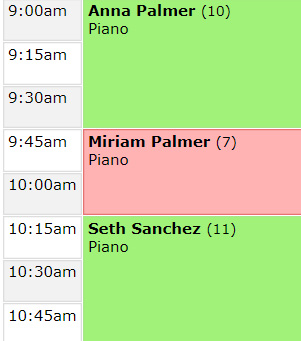 When the parents generate a make up time credit, they can self schedule through their account into an open time on their teacher's schedule from another student's future cancellation or in an unbooked gap that is available within the next 2-7 days. You as an admin can also schedule makeups in unfilled gaps farther in the future than 7 days, but I highly advise you tell parents to schedule their own make ups. We train parents to self-book. Let them self book makeups too.

In this case below there is another cancellation by a different student that can be filled. There are no other gaps available but it is the parent's responsibility to check back and see when they can schedule something. People check back on flights and vacation rental booking all the time. They will also check back to book make up lesson which you have graciously allowed them to self generate. Remember, they asked you for the favor which you are accommodating. They will check themselves for their lesson to book.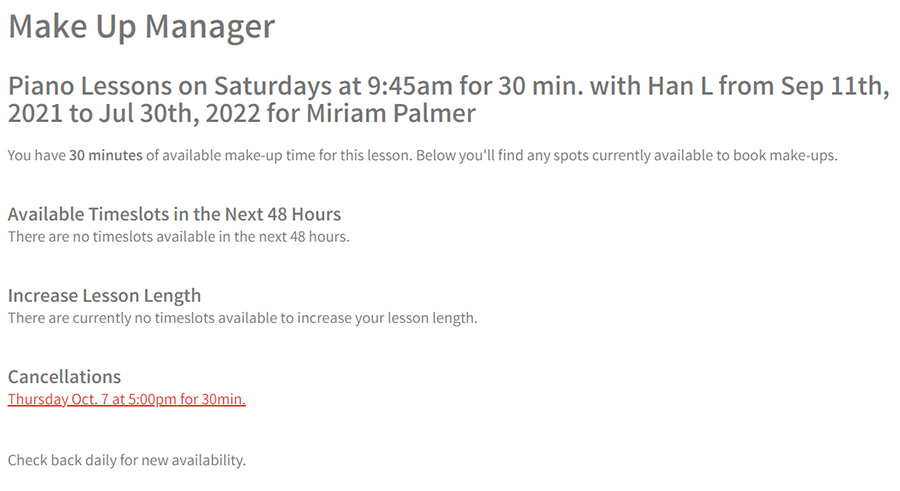 Parents also have the option to self increase the student's lesson time by 15 minute increments if there is a space before or after their regular lesson to use up make up time until it is gone.
Here is the notice parents get when they reach the maximum number of make up lesson cancellations you set. Thank you RoboCop.

A couple of things to note how we have proven this to work at our studio over the last 2 years.
When a student cancels it is automatically deducted from the teachers pay and automatically added back when the teacher completes the make up. You want to do it this way. If you pay in advance before the make up is done and a teacher quits and has not done make ups, clawing back money is hard.
Make up credits are valid for the whole teaching year, most years usually end in June, then the credits expire.
If you are worried about parent complaints, abuse, tons of rescheduling and angry people demanding refunds for their unused make up lessons, based on our experience, you shouldn't be.
In our last full teaching year (September – June) out of over 350 active private student registrations we had 230 self-cancellations. 151 people used up their make up credits. 79 did not use their make ups and did not ask for a refund. Many of our 30+ teachers that owed 2-3 make up lessons (teachers have a list in their account of who they owe make up lesson to) did not chase students to complete those outstanding lessons either. The teachers understood they would not be paid if the lessons were not completed but both sides did not pursue the make ups.
There was no angry mob. We only gave 1 parent a credit who was unable to use her lesson. She was the only person who even mentioned it.
People leave gift cards half unused and let in store credits expire all the time. People order stuff on Amazon they don't really want and don't return it for a refund. We all do that stuff (except you Patty). We are people. Studio owners are too hung up over worrying about make up lessons. If you have an automatic system to manage it and deal with all of the emotional hijacking that results from it, your life improves dramatically.
8. Gmail to student quick link
When you click on an active student lesson spot, a tool bar pops up with several options.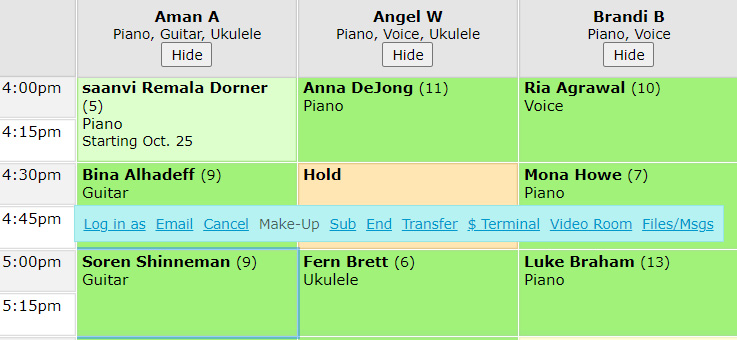 It is very simple and has 80% of what you will need in a typical studio day.
Log in as let's you login as the parent so you can walk them through anything they see in their account so literally you are on the same (web) page view as them.
Email opens up your studio Gmail account and prepopulates it with the student email and subject line about their lessons. You can edit the subject line as needed but it will probably be close to what you need. With Gmail "magic" the contact you email will be added to your Gmail (it is probably in their already if you emailed them before).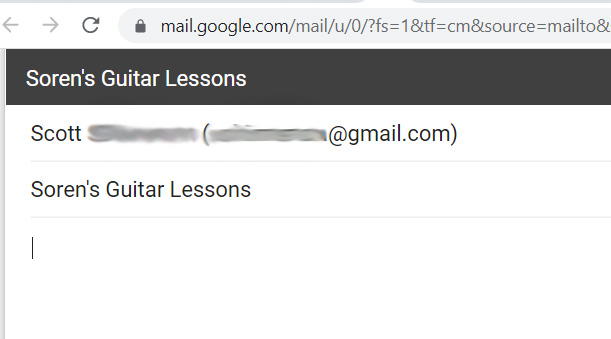 We highly recommend you use Gmail for 2 reasons. 50% of all email sent is on Gmail. If you send from Gmail you have a much better chance of showing up in the receiver's primary tab instead of updates, promotions, or spam. Gmail is also better for searching communication threads and putting in screen shots and pictures.
While we are here, I may as well explain the other links on our tool bar.
Cancel lets you cancel a student's lesson on that day so it turns red and adjusts pay and or adds a make up credit as needed.
Make up lets you manually book a make up lesson if a student is owed one. It automatically adjusts the student's make up lesson credits and teacher pay. We recommend letting parents book their own makeups but occasionally we book a make up lessons for the parent.
Sub and Transfer we covered earlier.
End lets you permanently quit a student, terminate future recurring payments and will adjust pay to teachers as necessary based on the last day of lessons.

$Terminal allows you to quickly add a credit to a student account which will be deducted against the next upcoming monthly payment (we always recommend credits toward upcoming payments over doing refunds). It also allows you to quickly charge a family credit card on file through our embedded payment terminal for any extras or incidental fees with the "Purchase" option. The charge and description will automatically be added in the previous payments section of a family account for them to see so they have a receipt. With the "Payment on account" feature you can enter in lump sum payments like checks some homeschool groups send you to pay for the whole year. The lump sum payment you enter will go towards any future monthly payments until it is used up, just like a giant gift card.
You know those times occasionally when a parent calls in at the end of the month panicking that their credit card payment won't go through on the first? If they pay cash for the upcoming fee or use a different card just for that month and you enter it in as a "Payment on account" the system will see that they paid for the month already and will not charge their card on file on the first. It will try again for the following months and all future months (just don't let parents do that too much though. That is definitely not autopilot).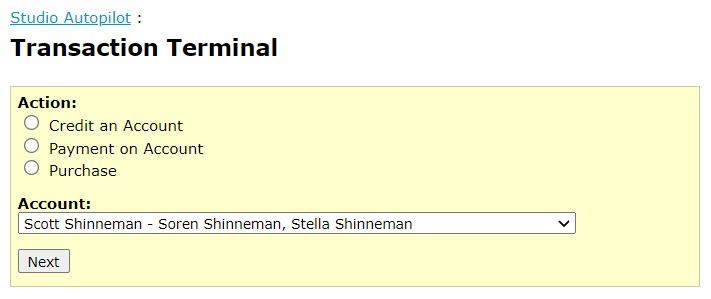 Video Room lets you enter the video lesson room of that student to test it or see if they are in a lesson room. This is very helpful once in a while.
Files/Msgs Lets you see any messages or files of practice notes sent back and forth between the teacher and student. You can also edit their messages as needed.
9. Pay Calculation

Pay is fully calculated and adjusted for late student starts in the month, teacher cancellations if the did not teach a lesson and make up lessons that were either deducted or added back when taught. Transfers and subbing days are fully accounted for too. You can add or edit pay items as needed. You have an option to display pay to teachers in real time in their account as it is happening as well so they can log in and see exactly what they are scheduled to get paid and why. We do that at our studio and it has eliminated surprises and "why didn't I get paid for X questions at the end of the month. It is literally what you see is what you get.
10. The best data transfer/parent training solution ever
Studio owners always say: "This system sound good but my parents will never use it. They won't log in and will just still call us."
Those studio owners are right when referring to other crap systems, but this ain't no crap system. We are contrarians in the world of software. We do not do data transfers and set up parent accounts that they never see, never use, and never know a password for. That is insanity and all other "professional" software companies offer data import (I believe "professional" means: we are just computer programmers who have never actually done a registration, booked a sub or worked the desk of a music studio. We make great yoga studio software though!).
Everyone's studio data is filled with errors. Importing the data you have is a big mistake other software companies help you do! And more importantly for our system to work we train parent behaviour from day one. Amazon has trained all of us to happily work for them doing our own research, shipping and order checking. We work for them, but we think we are "shopping".
In our beta studio testing the average family has logged in 5.15 times between September 1, 2021 and October 7, 2021. That is approximately 1 time per week. Parents are using our system because of how we introduced it to them.
To set up your studio parents you do not fill in their details in your system. You send them an invite and they fill in their details. There will be far fewer errors and they are filling in info about 2 or 3 students maximum, not hundreds like your admins (or you!) would have to do.
Simply pick a blank time on the day and time of the teacher you are getting the student to register for and click invite.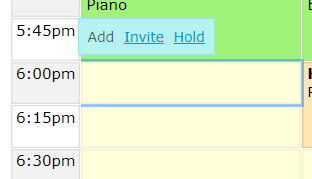 You fill in this custom link that is emailed to them.

They get an email like this with whatever text you wish.

When they click the link, they are put on a page to set up student and payment details and pick a password for their account.
We have now just trained parent behaviour. They know they have an account. They know their password as well as how to enter, charge, and update a credit card. They know how to send a message to their teacher.
In fact, this works so well we don't even do manual registration any more! We don't type in student details. After all, you don't call up Amazon and tell them your address on the phone! Stop bookin' it old school yo!
When prospects phone us to register, we send them an invite and confirm with them that they got the link in their email while we are on the phone with them.
If people come in person to register, we pull up different teacher profiles and times from our online website on a large screen at our front desk. They select a teacher and time they like and we send them an invite to their phone right there so they can to complete the registration themselves. This is the ultimate way to train your parents to use your system from day one.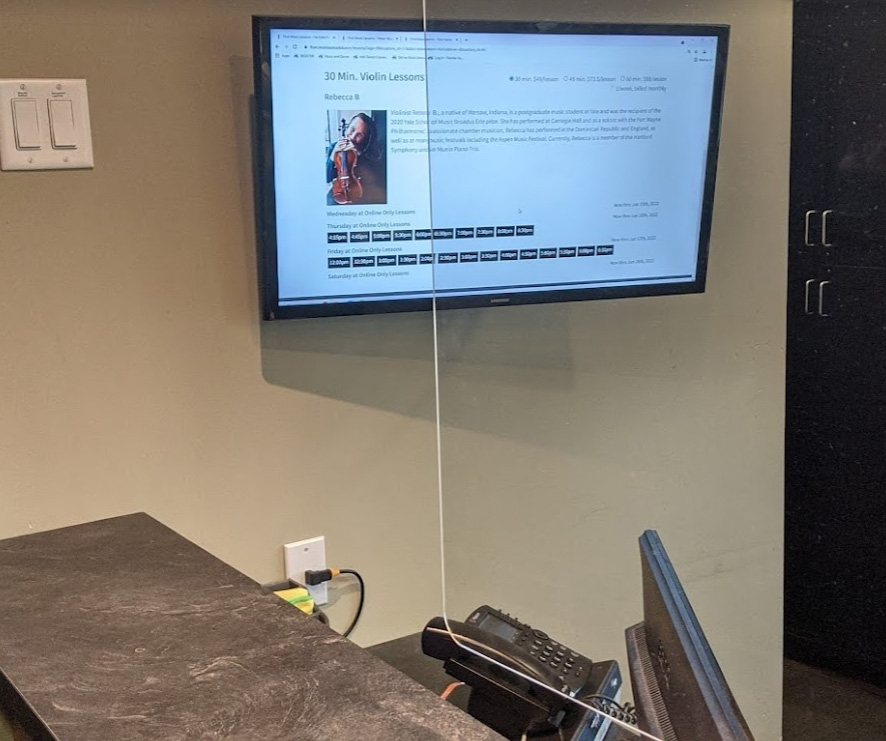 That is the StudioAutoPilot way.
OK, now you actually know the most important parts of StudioAutoPilot.
If you want to run on StudioAutoPilot in 2022, complete the reservation and application below. We will be configuring systems for new studios in the order we receive reservations. Based on the demand we had for our beta version, please be patient as we may need to work through a large number of reservations. After your reservation is submitted and approved, we will keep you updated about the new features that will be available in the full release version.
---